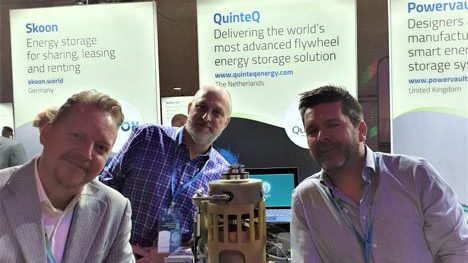 From Tuesday, March 19 to Thursday March 21 2019 QuinteQ was part of the Global Energy Storage Call, organized by Innoenergy. Selected from over 250 companies from all over the world, QuinteQ was selected together with 20 other companies jointly making up the top 10% best of breed companies in energy storage.
Although we did not take home the big prize, QuinteQ was able to put itself on the map as one of the world's most innovative energy storage companies and present itself towards the larger Innoenergy ecosystem of energy companies, investors and strategics.
Moreover, participating in the Global Energy Storage call proved that QuinteQ is on the right path towards an ever-growing electrical storage market where the future will be won by smart, hybridized solutions which combine multiple storage technologies. And it was once again confirmed that QuinteQ offers the world's most advanced flywheel energy storage solution.
Finally, we want to recognize and honor the Innoenergy group for their vision and hard work to move this energy transition forward, well done!
For more information, see official notification below:
https://electricalstorage.innoenergy.com/