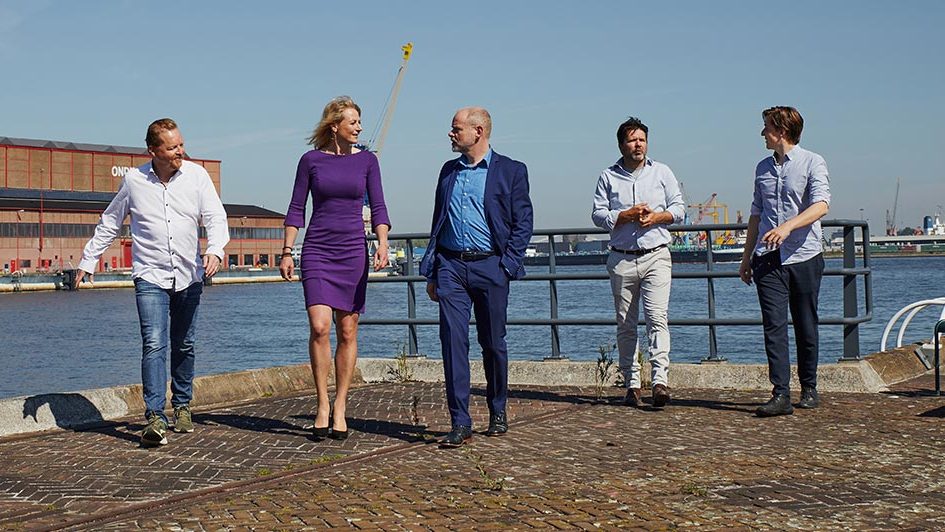 As of June 2021 QuinteQ will be one of the first development partners of the brand new Fieldlab Industrial Electrification (FLIE) in Rotterdam. QuinteQ, the Dutch developer and producer of the most advanced, frictionless flywheel, based on a superconducting crystal, will be able to set up its first pilots in the South Holland region in cooperation with FLIE to support the necessary electrification of industry. This cooperation runs from application studies and feasibility tests (current phase) to demonstration tests with industry partners. The electrification of industry which QuinteQ makes possible in cooperation with FLIE will help the region to achieve its climate objectives.
The brand new Fieldlab Industrial Electrification (FLIE) helps companies in the process industry in the Industrial Port Complex Rotterdam (HIC) to get started with industrial electrification. They are doing this by sharing unique knowledge and making technical facilities available to make innovative technologies ready for the market. Industrial electrification, also known as Power-2-X, is the replacement of fossil (oil, gas and coal) driven processes with electrically driven processes in industry. This will help to realise the CO2 emission reduction targets and make the industry more sustainable. The Fieldlab Industrial Electrification is a joint initiative of Deltalinqs, FME, InnovationQuarter, Port of Rotterdam and TNO. The fieldlab has been made possible by the European EFRO subsidy and the support of the government, Province of South-Holland and the Municipality of Rotterdam.
QuinteQ is a Dutch start-up that is bringing a new energy storage technology to the market that is specifically capable of delivering high power and a low 'levelized cost of storage'. The Dutch company develops and builds a new, more compact and lighter type of flywheel that uses magnetic bearings, which means the wheel has virtually no losses and can store and release high power peaks. It has a modular design and can be placed in a container for different applications. This technology fits well with the electrification of the industry that is faced with an increasing demand for electrical power and capacity and encounters problems such as (too) small grid connections and additional costs. In the FLIE project, QuinteQ will look for companies in the province of Zuid-Holland which are looking for a solution to peakshaving, among other things, and are also interested in finding out whether other possibilities of the flywheel, such as trading on the energy market, could make an extra interesting case.
During the FLIE project, various application possibilities will be worked out. In addition, the intention is to carry out demonstration tests later. Should you be interested in knowing more about this, please contact Timo Pauel of QuinteQ, timo@quinteqenergy.com.
https://www.fieldlabindustrieleelektrificatie.nl/quinteq-vliegwiel/