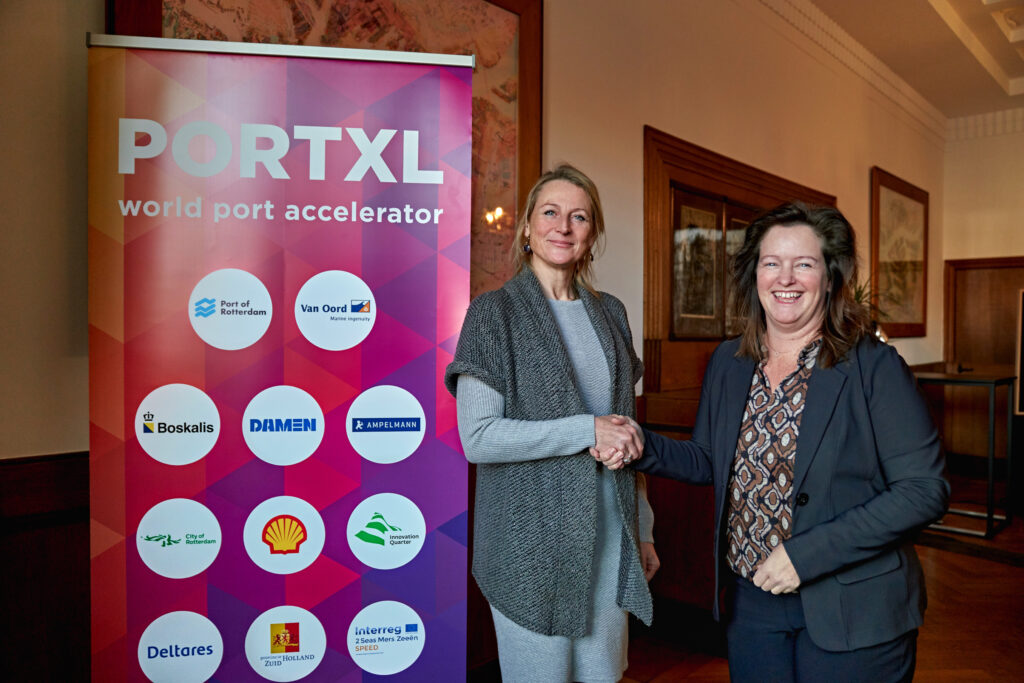 Last Thursday, 15 December, QuinteQ Energy and Port of Rotterdam have signed a letter of intent to jointly find pilot opportunities in the port of Rotterdam to help get the port to a zero emission port. The Port of Rotterdam Authority is facing a huge challenge, as it has serious ambitions in reducing their CO2 output. They are aiming for a 55% reduction in CO2 emissions, and a completely CO2 neutral port in 2050. Currently, many processes are still fossil driven and need to be electrified. Yet grid congestion does not allow for an energy transition any time soon.
That is why the Port of Rotterdam Authority (PoR) selected QuinteQ to further investigate opportunities. as part of the PortXL accelerator program, PoR and QuinteQ have been introduced to each other in September. The 3-month program of PortXL matched promising start-ups to the maritime industry and supported them in getting a foothold in the maritime world. "We see the signing the LoI as proof for us that PoR is acknowledging this problem, and is looking to further investigate a solution for its port.", says Timo Pauel, NBD manager of QuinteQ.
QuinteQ Energy, with it's high-tech, containerized flywheel, fits perfectly in two of the four 'energy transition pillars' of the port, namely 'Efficiency & infrastructure' and 'A new energy system'. QuinteQ wants to empower the energy transition for ports, by allowing terminal operators to maximise the utilisation of existing electric infrastructure. Timo says "By peak-shaving the power-hungry harbour cranes, we create a lot of space on current grid connection. This allows terminal operators to use that space for EV charging points, the installation of electric cranes, reefers or even shore-power.". Given that in many cases, the energy transition is halted by the limitations of the power grid, QuinteQ's flywheels might offer the much-needed solution for terminals to help flip the power switch on.
Eager to learn more about this topic, or find out whether flywheel peak-shaving can benefit your situation? Feel free to reach out to Timo at timo@quinteqenergy.com.
Check out the video on the PortXL shakedown event here: